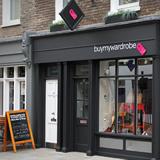 iris BuyMyWardrobe shop online

The BuyMyWardrobe online Marketplace is open for shopping! Launched
to the press and public last week it promises to be just as successful as the designer recycling events that BuyMyWardrobe have been running for the last four years.
As described by BuyMyWardrobe " The exclusive online marketplace is a place where approved stylish women can sell their ever - expanding wardrobes. Our network of fashion industry insiders, high flying professionals, self confessed shopaholics and ladies who lunch will be offering their continuously evolving designer wardrobes for sale to our members at a fraction of the original price."
The great thing about the site is it allows businesses to have a profile to sell from and I am pleased to have been selected as one of them. The iris shop will be stocked with pieces donated by my clients, some fashion savvy contacts and some pieces from my own wardrobe that need moving on to fund new purchases!
This is a uniquely designed preloved site and business which vets it's sellers and provides them with a well presented and managed platform to host their own shops. Kal di Paola whose baby this is launched BuyMyWardrobe in Feb 2008 hosting high end preloved shopping events. I was a wardrobe mistress at two of these and was impressed by the detailed organisation and well chosen venues. She has poured all her clever fashion business acumen and pure love of clothes particularly of the designer type into this new venture an online marketplace.
Due the the eye that Kal and her team keep on the site and the vetting of the sellers the quality of the items is secure, the range of pieces in stye and size is wide and your ability to pick up a virtually new, sometimes completely new designer items at a bargain price is unrivalled!
Go and have a look around for yourselves and for those of you with subscription tips pages you can be sure that I'll be using the site to find some bargain pieces for you!
https://www.buymywardrobe.com/welcome or tap on my button to the right!
Gill